Introduction:
In the first 24-28 hours of life, blood glucose can fall to as low as 30-40mg/dL; a cutoff of <47-50mg/dL is often used to determine hypoglycemia.
Early recognition and management of neonatal hypoglycemia can prevent both short-term consequences, such as seizure, and long-term consequences such as poor neurodevelopmental outcomes.
Etiology:
Non-pathologic mechanisms of hypoglycemia in newborns include low hepatic glycogen stores, inadequate gluconeogenesis resulting from inadequate muscle stores of amino acids, and insufficient fatty acid availability.
Pathologic causes of hypoglycemia include excessive insulin secretion, inborn errors of metabolism, hormone deficiencies, and sepsis (see below).
Both patients who are small for gestational age (SGA) and patients who are large for gestational age (LGA) can experience hypoglycemia, as can infants of diabetic mothers.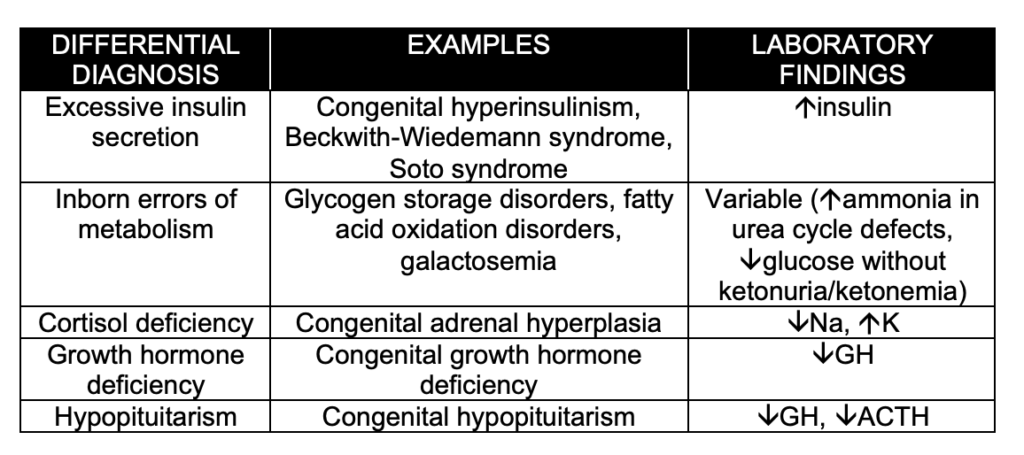 Clinical Manifestations:
Clinical manifestations are classified as neurogenic (caused by compensatory activation of the sympathetic nervous system) and neuroglycopenic (caused by inadequate glucose delivery to the CNS).

Neurogenic: sweating, pallor, temperature instability, irritability, hunger, tremulousness, tachycardia, vomiting
Neuroglycopenic: apnea, hypotonia, seizure, coma, death

Providers should check a blood glucose value in neonates who exhibit any of the above symptoms, any infant with significant vomiting and inability to take PO, and in any ill-appearing neonate.
Management:
The "Rule of 50s" should be used to calculate the amount and concentration of glucose to be administered.

Dextrose concentration x volume (per kg) = 50

Provides 0.5g/kg of glucose
NB: Dextrose concentrations higher than 10% should be avoided in infants and young children because of the risk of venous injury.
Other treatment options exist, including glucocorticoids, glucagon, octreotide, and nifedipine; however, these should be given in consultation with pediatric endocrinology (with the exception of hydrocortisone for suspected congenital adrenal hyperplasia, CAH).
Disposition:
Patients who are unable to maintain their blood glucose levels with frequent feedings should be admitted for further management.
Patients who are ill-appearing or require further workup for other causes should also be admitted.
References:
1. Abramowski A, Ward R, Hamdan AH. Neonatal Hypoglycemia. [Updated 2020 Sep 9]. In: StatPearls [Internet]. Treasure Island (FL): StatPearls Publishing; 2020 Jan-. Available from: https://www.ncbi.nlm.nih.gov/books/NBK537105/Adamkin, David. Neonatal hypoglycemia. Curr Opin Pediatr. 2016;28(2):150-155. doi:10.1097/MOP.0000000000000319.
2. Alsaleem M, Saadeh L, Kamat D. Neonatal Hypoglycemia: A Review. Clin Pediatr (Phila). 2019 Nov;58(13):1381-1386. doi: 10.1177/0009922819875540. Epub 2019 Sep 26. PMID: 31556318.
3. Thompson-Branch A, Havranek T. Neonatal Hypoglycemia. Pediatr Rev. 2017 Apr;38(4):147-157. doi: 10.1542/pir.2016-0063. PMID: 28364046
Note: Please see our CoreEM post on The Critically Ill Infant for more information regarding THE MISFITS