The Case
A 62-year-old male with a history of Hypertension, Hyperlipidemia, Coronary Artery Disease with stents, Pulmonary Embolism on Eliquis, presents with sudden onset, severe, mid-sternal chest pain that started 15 minutes prior to arrival. He arrived initially with diaphoresis and pallor which have self-resolved following arrival to the ED.
EKG Characteristics
Rate

95 BPM

Rhythm

Normal Sinus Rhythm

Intervals

PR 164, QRS 82, QT/QTc 360/452 (normal)

Axis

Normal

Additional Features

Tall, prominent, symmetrical T-waves in V3-V4, Up-sloping ST segment depression in V3-V4, Reciprocal ST elevation in AVR
Diagnosis
Diagnosis: de Winter pattern, concerning for an occlusive myocardial infarction of the Left Anterior Descending coronary artery
Questions
What is your clinical approach to a patient with self-resolved anginal chest pain? How would your management change in the setting of on-going chest pain?

This presentation should be discussed with cardiology for consideration of emergent cath lab activation. Serial ECG's should be obtained to assess for evolution to acute STEMI.
Discussion
Case Discussion:
The patient's history was concerning for an acute coronary syndrome.  The initial EKG demonstrated de Winter's pattern in the lateral leads. Serial EKGs showed improving ST depressions with resolution of hyper-acute T-waves. 
The patient was given aspirin, clopidogrel and started on a heparin drip. An initial high-sensitivity troponin was 5 with repeat high-sensitivity troponin trending to 2000 and an eventual peak at 27,000. The patient was ultimately taken to the catheterization lab where he was found to have severe multi-vessel coronary artery disease (OM/LPDA/LPL, LAD/D2, occluded non-dominant RCA) that was not amenable to stenting. The patient subsequently underwent coronary artery bypass grafting and was discharged home without any complications. 
The de Winter pattern indicates occlusion of the proximal left anterior descending (LAD) coronary artery. The pattern is more commonly observed in younger, male patients with a history of hypercholesterolemia.
de Winter pattern is characterized by:
      – 1-3 mm upsloping ST depression at the J point in precordial leads (V2-V4)
      – Tall, symmetric T-waves in the precordial leads (V2-V4)
       – ST-segment elevation in lead aVR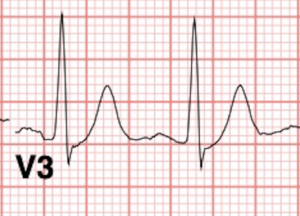 .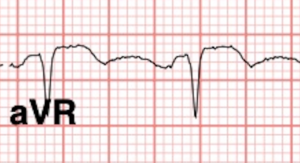 In a study of 1890 patients who underwent primary percutaneous coronary intervention (PCI) of the LAD , 2% had this pattern. As demonstrated by this case, serial EKG's may show complete resolution of these findings without progressing into a STEMI pattern. Thus, it is crucial that the emergency medicine physician be attuned to this EKG pattern and advocate on behalf of the patient for emergent cardiac catheterization.
Pearls
The de Winter pattern is seen in approximately 2% of LAD occlusions
Key diagnostic features include upsloping ST depressions with hyperacute T-waves in the precordial leads
de Winter pattern should be considered for emergent catheterization, especially in the setting of active chest pain
Pursue serial ECG's to assess for evolution to STEMI
EKG findings may be dynamic, but resolution of these features should not delay reperfusion therapy
The de Winter pattern is more common in young males with hypercholesterolemia
Sources
de Winter RJ, Verouden NJ, Wellens HJ, Wilde AA; Interventional Cardiology Group of the Academic Medical Center. A new ECG sign of proximal LAD occlusion. N Engl J Med. 2008 Nov 6;359(19):2071-3. doi: 10.1056/NEJMc0804737. PMID: 18987380.
Mike Cadogan and Robert Buttner, "De Winter T Wave," In: LITFL – Life in the FastLane, Accessed on July 28, 2023, https://litfl.com/de-winter-t-wave/.
Verouden NJ, Koch KT, Peters RJ, Henriques JP, Baan J, van der Schaaf RJ, Vis MM, Tijssen JG, Piek JJ, Wellens HJ, Wilde AA, de Winter RJ. Persistent precordial "hyperacute" T-waves signify proximal left anterior descending artery occlusion. Heart. 2009 Oct;95(20):1701-6. doi: 10.1136/hrt.2009.174557. Epub 2009 Jul 19. PMID: 19620137.