Definition: Separation of the humerus from the scapula at the glenohumeral joint
Epidemiology:
Most commonly dislocated joint in the body  (17/100,000 people/year)
Young males most commonly injured
Classification:
Anterior: 97% (Rowe 1956)
Posterior: < 3%
Inferior: < 1% (Also known as: Luxatio Erecta Humeri)
IMAGE: www.newhealthadvisor.com
Mechanism:
Anatomy

Inherently unstable joint, relies on soft tissues for stabilization
Only 25-30% of humeral head articulates with glenoid at any one time
Axillary nerve wraps around surgical neck of humerus, most commonly injured nerve in dislocations of any direction

Motor: Deltoid muscle
Sensory: Anterolateral shoulder

Anterior:

Fall onto outstretched hand
Force/blow to abducted and externally rotated +/- extended arm (ie. Blocking basketball shot)

Posterior:

~50% secondary to trauma (Matsen 2007)
34% associated with seizures (Rouleau 2012)

Strongest shoulder muscles (latissimus dorsi, pectoralis major, subscapularis) overpower others and pull shoulder internally, posteriorly
Most common dislocation during seizures is anterior due to associated fall

Inferior: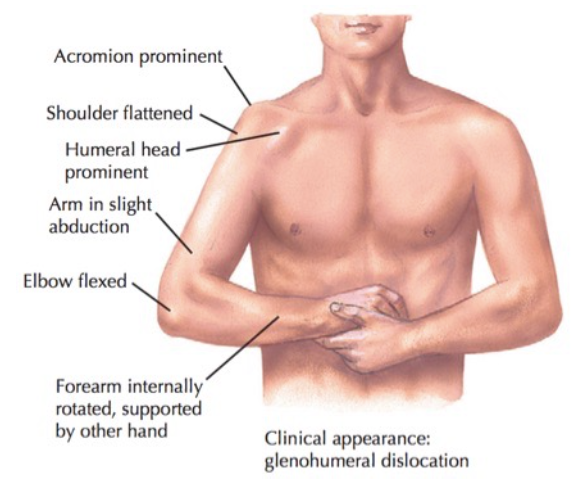 Physical Examination:
Anterior

Arm is held in internally rotated and abducted position
Shoulder silhouette flattened with a prominent acromion
Netter's Concise Orthopaedic Anatomy, Second Edition
Posterior

Arm is fixed, internally rotated, and adducted
Posterior shoulder prominence

Inferior

Fixed, abducted position 
Arm held above the head
X-Ray Imaging (All Images in Gallery Below):
For any suspected dislocation, obtain 3 views: AP, Scapula Y, and Axillary (see Approach to Traumatic Shoulder Pain for normal X-ray anatomy)
Anterior Dislocation

AP View: Humeral head dislocated anteriorly and rests under the coracoid process
Scapula Y View: Scapula Y view: humeral head displaced medially (to the right) of the scapula
Axillary view: Humeral head displaced anteriorly in front of the coracoid process

Posterior Dislocation

AP: "Light bulb on a stick" – often the only sign of a posterior dislocation. The humeral head does not appear displaced from the glenoid BUT it is internally rotated and thus the contour of the humeral head appears rounded – like a light bulb
Scapula Y: Humeral head displaced laterally (to the left) of the scapula
Axillary: Humeral head displaced posteriorly behind the coracoid process

Inferior Dislocation

Luxatio Erecta: Humeral head displaced inferior to glenoid and arm/humerus fixed above head/superiorly
Important Additional X-Ray Findings
Hill Sachs Lesion

Impaction fracture of humeral head against glenoid rim
Anterior dislocations,

Occurs against posterolateral surface
Incidence rate 40-90%
As high as 100% in recurrent dislocations (Provencher 2012)

Posterior dislocations

Occurs against anterolateral surface ("reverse Hill Sachs lesion")
Incidence 86%.

May require accentuating rotational force (internal vs external) when reducing dislocation to dislodge the lesion off glenoid rim
Bankart Lesion

Detachment of anterior inferior labrum from glenoid
"Soft" – Labrum only
"Bony" – impaction fracture involving glenoid margin
Management/Reduction Techniques
Provide adequate analgesia

The more the patient tenses his or her muscles from pain, the more difficult it will be to reduce the joint
Consider systemic analgesia vs intraarticular local anesthetics vs both
Procedural sedation may be required in select cases

Complete a full neurologic and vascular assessment prior to the performance of any manipulation technique
Anterior

Cunningham Technique

Physician massages the patient's biceps muscle as the patient holds arm adducted and elbow flexed
Patient gradually moves shoulders up and back (shoulder shrug) as tolerated
Scapular Manipulation

Stimson technique applied
Scapula manipulated counterclockwise: stabilized superiorly, medial force applied on inferior angle
Traction-Countertraction

Gradual, smooth traction is applied to the affected arm until patient's muscles relax or tire sufficiently to release the dislocated humeral head
An assistant maintains counter traction to maintain patient in place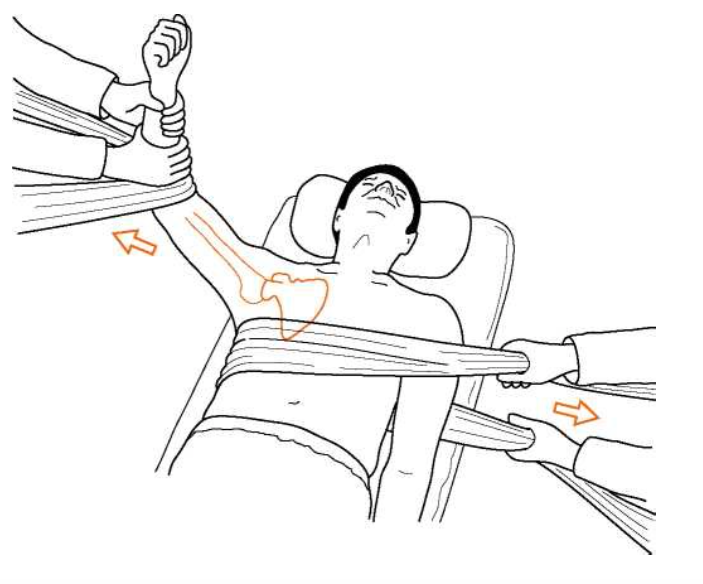 Posterior: requires 2 operators

Traction-Countertraction recommended for all posterior dislocations
Sitting patient upright and applying forward traction might be useful

Inferior

Arm traction superiorly with gradual shoulder adduction 
Sheet wrapped around upper torso to hold patient in place

Traction-Countertraction
Two-Step (Youm 2014)

Arm traction superiorly while pushing humerus laterally
This will either reduce the shoulder entirely or convert it to anterior dislocation, which can be reduced as above
Relative Contraindications to ED Reduction:
Associated fracture of humeral neck
Associated nerve injury/deficit
Suspected major vascular injury
Chronic Dislocation

> 48 hours
Success rate exceedingly low
Refer to orthopedics for surgical evaluation if initial attempts fail
Follow Up
Immobilize in sling for 3-4 weeks (older patients 1-2 weeks to avoid joint stiffening)
Rehab should begin with passive range of motion exercises
Anterior dislocations: no external rotation past neutral and no abduction past 90 degrees for the first 4-6 weeks
Posterior dislocations: no internal rotation for first 4-6 weeks.
Take Home Points:
Be vigilant for concomitant neurovascular injuries and always perform a full neurovascular assessment before and after reduction
Carefully review radiographs for posterior dislocations as they may appear "normal" on first glance
Be comfortable with multiple reduction techniques. No one approach will reduce all shoulder dislocations.
Joint injections and systemic analgesia will facilitate reduction. Depending on patient response to initial attempts, procedural sedation may be necessary.
References
Youm T et al. Acute Management of Shoulder Dislocations. J Am Acad Orthop Surg. 2014 Dec;22(12):761-771.PMID: 25425611.
Rowe CR: Prognosis in dislocations of the shoulder. J Bone Joint Surg Am 1956; 38(5):957-977 PMID 13367074
Matsen FA et al. Principles for the evaluation and management of shoulder instability. Instr Course Lect 2007; 56:23-34. PMID: 17472289
Rouleau DM et al. Incident of associated injury in posterior shoulder dislocation: Systematic review of the literature. J Orthop Trauma 2012 ;26(4):246-251. PMID: 22183196
Robinson CM, Aderinto J. Posterior shoulder dislocations and fracture- dislocations. J Bone Joint Surg Am 2005; 87 (3):639-650. PMID: 15741636
Patel DN et al. Luxatio erecta: Case series with review of diagnostic and management principles. Am J Orthop 2011;40(11): 566-570. PMID: 22263209
Groh GI et al. Results of treatment of luxatio erecta (inferior shoulder dislocation). J Shoulder Elbow Surg 2010;19(3):423-426. PMID: 19836975
Provencher MT et al. The Hill-Sachs lesion: Diagnosis, classification, and management. J Am Acad Orthop Surg 2012;20(4):242-252. PMID: 22474094
Schwartz D. Emergency Radiology Case Studies. Upper Extremity: Patient 6. 271-279. McGraw-Hill Education / Medical; 1 edition (November 26, 2007)
Thompson J, Netter F, Machado C. Netter's Concise Orthopaedic Anatomy. Second edition. Saunders Elsevier 2010.