INTRODUCTION
Potentially life-threatening infection of the retropharyngeal space
Potential space from the base of the skull to the posterior mediastinum

Retropharyngeal nodes become infected and develop into an abscess
Retropharyngeal nodes more prominent in young children

50% RPA (not due to trauma) occur 6-12 months
96% RPA (not due to trauma) occur <6 years

Risk Factors

Preceding head and neck infection (otitis, pharyngitis, sinusitis)
Penetrating trauma: e.g. from a fall with a foreign body in the mouth (toothbrush)
Airway procedures (intubation, dental procedures, NG tube placement)
CLINICAL PRESENTATION
History and physical examination findings are often nonspecific
Presents with fever, toxic appearance and respiratory distress

Symptom progression is less acute than epiglottitis
Fever and neck stiffness may mimic meningitis

Considered RPA with a severe sore throat and a normal pharyngeal exam
Patients at risk for airway obstruction should be examined in the OR


LABORATORY TESTING
Laboratory evaluation may reveal nonspecific elevation in the white blood cell count and acute phase reactants
RADIOLOGIC EVALUATION
Lateral neck soft tissue XRAY: Evaluation of prevertebral soft tissue
Should be obtained in extension on inspiration: Flexion of the neck, expiration and crying may result in pseudo-enlargement

Swelling of the prevertebral space
<1/2 adjacent vertebra width C1-4 or C2 ≤7mm
<1 adjacent vertebral width C5-8 or C6 ≤14mm (<15 yrs), ≤22mm (>15 yrs)
Air or an air fluid level
Loss of normal cervical lordosis due to muscle spasm and inflammation
Evaluate for epiglottitis and foreign bodies

Chest XRAY: Pneumonia/empyema and mediastinitis
Neck CT with contrast: Guide need for operative intervention

Nature: Cellulitis versus abscess
Extent: Proximity to vasculature, lateral spread
ID radiolucent foreign body
Muscle relaxation due to sedation may precipitate complete airway obstruction
Requires airway equipment, personnel trained in advanced airway management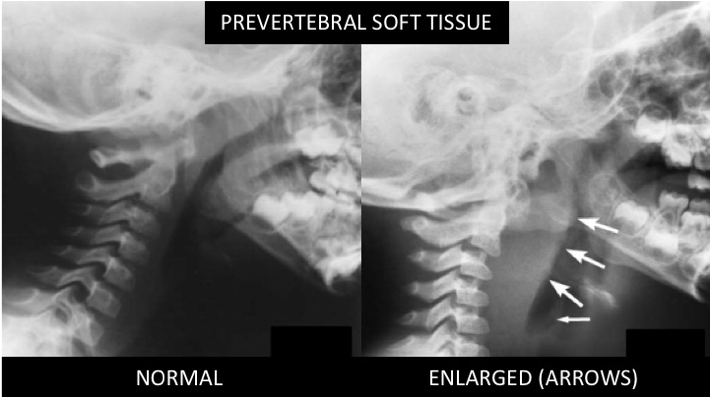 MANAGEMENT
Maintain in a position of comfort (e.g. sitting in their parent's lap)
Supportive care: Airway maintenance/monitoring, hydration, analgesia
Consider: Dexamethasone, nebulized Epinephrine to reduce swelling
SURGERY
Indications: Have not been definitively established

Airway compromise
Large abscess (>2 cm)
Failed initial antibiotic therapy
ANTIBIOTICS
Typically polymicrobial

Gram positive: Group A Strep, Staph aureus (MSSA and MRSA)
Respiratory anaerobes: Bacteroides, Fusobacterium, Peptostreptococcus
Rare: Gram (-), Eikenella corrodens, Bartonella hensalae, Mycobacterium TB

No comparative treatment studies
Empiric therapy: Group A Strep, Staph aureus, respiratory anaerobes.

Adjust base on culture and/or clinical response.
Ampicillin/Sulbactam does not cover MRSA.
Clindamycin covers MSSA but depending on local resistance does not cover MRSA and some group A Strep.

DISPOSITION
Admit to PICU for airway monitoring if does not go directly to surgery
REFERENCES
Craig FW, Schunk JE. Retropharyngeal abscess in children: clinical presentation, utility of imaging, and current management. Pediatrics. 2003 Jun;111(6 Pt 1):1394-8., PMID: 12777558
Page NC, Bauer EM, Lieu JE. Clinical features and treatment of retropharyngeal abscess in children. Otolaryngol Head Neck Surg. 2008 Mar;138(3):300-6., PMID: 18312875