Definition: Fracture of the distal humerus above the level of the epicondyles
Mechanism
Indirect: Fall onto outstretched and hyperextended upper extremity
Direct (less common)

Direct trauma to the elbow

Fall onto a flexed elbow or from object striking the elbow
Epidemiology
Comprise of 55-75% of all elbow fractures (Egol 2010)
Male predominance
Peak incidence between 5-8 years of age after which dislocation is more frequent
Physical Exam
Patients will present with a swollen, tender elbow with painful range of motion
S-shaped Deformity: Occurs when the fracture is completely displaced at the distal humerus
Pucker Sign

Puckering, dimpling, or ecchymosis of the skin anterior to the distal humerus
Indicates that the proximal fragment has penetrated the brachialis muscle (Brubacher 2008)

A thorough neurovascular exam must be performed

Neuropraxis is common (Egol 2010)

Anterior Interosseous Branch of the Median Nerve Neurapraxia

Most Common associated nerve injury
Unable to flex the interphalangeal joint of the thumb and the distal interphalangeal joint of the index finger (can't make an A-OK sign)

Radial Nerve Neurapraxia: inability to extend wrist or digits
Ulnar Nerve Neurapraxia: inability to abduct or adduct fingers
Vascular Injury

Results from direct injury to the brachial artery or secondary to antecubital swelling
Can lead to Volkmann's Contracture: permanent flexion contracture of the hand at the wrist secondary to obstruction of the brachial artery.
Fractures Types
Extension type injuries represent 98% of supracondylar humerus fractures
Gartland Classification of Supracondylar Fractures

Based on the degree and direction of displacement, and the presence of an intact cortex (Alton 2015)
Type1: Minimal displacement – fat pad elevation on radiographs
Type2: Posterior hinge – anterior humeral line anterior to capitellum
Type3: Displaced – no cortices intact
Type4: Periosteal disruption with instability in both flexion and extension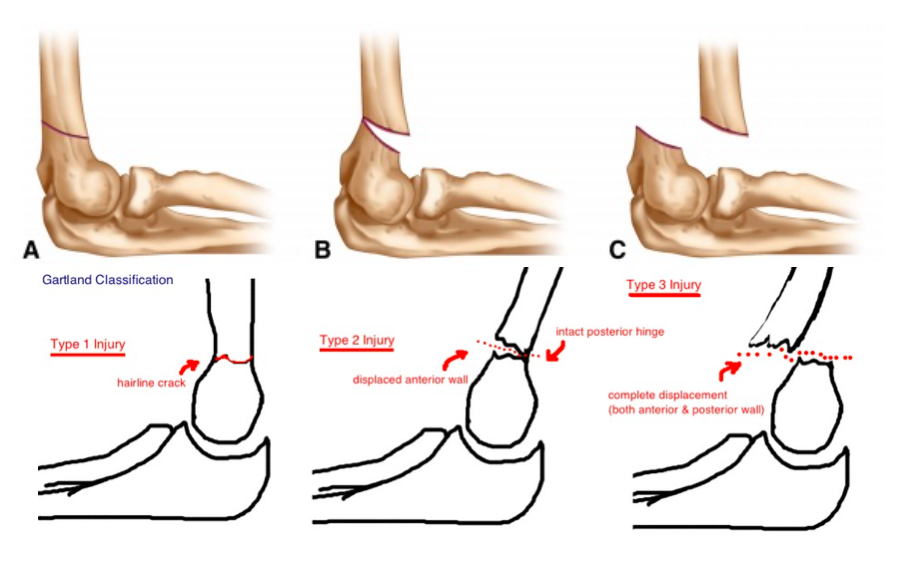 Diagnostic Imaging
Always obtain AP and lateral radiographs
Occult Fractures

Clear fractures often absent on plain radiographs
Look for indirect evidence of fracture

Anterior Fat Pad Sign ("Sail Sign")

The presence of a small anterior fat pad can be a normal finding
Elevation of the anterior fat pad (abnormal) is secondary to a joint effusion

Posterior Fat Pad Sign

Presence of a lucent crescent located in the olecranon fossa
Presence of posterior fat pad is always pathologic.

Anterior Humeral Line

In an elbow with normal anatomic alignment, a line drawn down the anterior surface of the humerus should cross the middle third of the capitellum
If this line is disrupted, it suggests an occult supracondylar fracture
ED Management
Assess for secondary injuries as with any other trauma patient
Gartland Type1 Fractures

Long arm posterior splint

Elbow in 90 degrees of flexion
Forearm in neutral position

Orthopedic follow-up in one week for likely operative management

Gartland Type2/3 Fractures

Immediate orthopedic consultation in order to determine appropriate intervention (closed versus open reduction with percutaneous pin placement)
Gartland 2/3 fractures have higher likelihoods of occult neurovascular injury and thus residual deformity
Closed reduction and percutaneous pinning is the preferred treatment for displaced fractures (Brubacher 2008)

Other indications for immediate consultation

Open fractures
Presence of neuromuscular compromise
Evidence of compartment syndrome
Prognosis
Long-term outcomes of supracondylar humeral fractures are good; however, there is potential for long-term pain, ulnar nerve sensitivity, and decrease in grip in Type2/3 fractures (Sinikumpu 2016)
Most complications from supracondylar humeral fractures are neurapraxias which require no treatment (Egol 2010)
Take Home Points
Supracondylar humeral fractures may often present without evidence of fracture lines on diagnostic imaging. Always assess for indirect signs of fractures.
Do not forget to conduct a thorough neurovascular exam as supracondylar fractures can be associated with neurapraxias, vascular injuries, and compartment syndrome.
Type1 fractures can be splinted and discharged with close orthopedic follow-up; Type2/3 fractures generally require immediate orthopedic consultation.
References
Egol KA et al. Handbook of Fractures. Lippincott Williams & Wilkins; 2010. Link
Brubacher JW, Dodds SD. Pediatric supracondylar fractures of the distal humerus. Curr Rev Musculoskelet Med. 2008;1(3-4):190-6. PMID: 19468905
Alton TB, Werner SE, Gee AO. Classifications in brief: the Gartland classification of supracondylar humerus fractures. Clin Orthop Relat Res. 2015;473(2):738-41. PMID: 25361847
Sinikumpu JJ et al. The long-term outcome of childhood supracondylar humeral fractures: A population-based follow up study with a minimum follow up of ten years and normal matched comparisons. Bone Joint J. 2016; 98-B(10):1410-1417. PMID: 27694598