BACKGROUND
Definition
Term applied to transverse fractures of the midface. The fractures involve three bones of the midface

Maxilla
Orbital rims
Zygoma
All involve the pterygoid processes of the sphenoid bones, which make up intrinsic support of the midface

Results in discontinuity of the midfaceHartstein 2012
Fun fact: These fractures were named by Rene Le Fort, a French surgeon in 1901 who took intact cadavers and caused forceful blunt trauma to the skulls.
Epidemiology
Low-velocity mechanism (fall from standing, blunt trauma) resulted in the majority of Le Fort I fractures (56%)
High-velocity mechanism (fall >1 story, high-speed MVC) were associated with higher grade Le Fort fractures (e.g. II, III) (Phillips 2017)
Associated head and neck injuries with higher grade Le Fort fractures: (ibid.)

Skull fracture (40.7%)
Closed head injury (5.4%)
Cervical spine injury (5.4%)
Classification
Three types, dependent on the plane of injury
Le Fort Type I: "Floating palate"

Involves a transverse fracture through the maxilla. Occurs above the roots of the teeth and may result in mobility of the maxilla and hard palate from the midface
Can be associated with malocclusion and dental fractures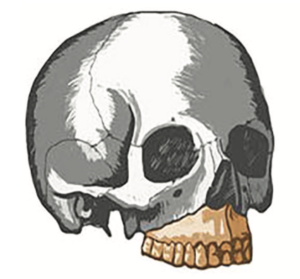 Le Fort Type II: "Floating maxilla"

This fracture involves extension of the fracture superiorally. Includes fractures of the nasal bridge, maxilla, lacrimal bones, and orbital floors and rims
Typically bilateral and triangular in shape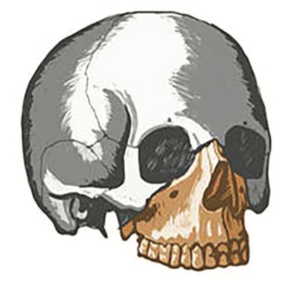 Le Fort Type III: "Floating face"

Rare but are considered "craniofacial dysjunction"
They involve the bridge of the nose, the medial walls of the orbit (ethmoids), the lateral orbital walls, the maxilla and the zygomatic arch
The entire face can shift
EVALUATION
Findings on presentation
Severe facial ecchymosis (balloon face)
Severe nasal or oral hemorrhaging
Conjunctival hemorrhage.
CSF Rhinorrhea
Hemotympanum
Anosmia
Paresthesias of the face
Elongation of the face
Nasal disfiguration
Emphysema of the face
Exophthalmos
Racoon eyes
Auricular hematoma
Pupil asymmetry
Dental injuries
Sinking over the anterior face (dish face)
Diagnostics
Primary survey (ABCs) and then secondary survey (where your facial and ocular exam occur)
Physical exam
Palpation of the entire face will detect most fractures
Mobility in the hard palate (intraoral palpation) or maxilla when teeth are grasped and evaluated while stabilizing the forehead with the other hand
Pertinent questions to ask if the patient is awake and alert:

How is your vision? (document visual acuity)
Does your bite feel normal?
Does anything feel numb?
Imaging
Dedicated facial CT

Allows for imaging of orbits and fine fracture lines as well

Consider CT C-spine given high incidence of concomitant cervical spine injury

1.4% of patients with concomitant c-spine fracture / dislocation (Hasler 2012)

No role in plain films due to the complexity of the facial bones
MANAGEMENT
Airway should always be managed first, protection from bleeding or mechanical disruption is key

Severe bleeding may occur from the nose or oropharynx and these can be managed with anterior packing
Posterior packing should be avoided if possible unless the skull base is known to be intact.
In one series, 43.5% of patients with Le Fort III required tracheostomy (Bagheri 2005)

After the primary stabilization is achieved, other management can occur

Elevate the head of the bed to 40-60 degrees for anyone with a possible CSF leak (if not in spinal precautions)
Administering IV antibiotics, especially if CSF leak known orsuspected (though this is not well supported by literature) (Soong 2014)

First generation cephalosporins or Augmentin when sinus fractures are involved

Perform secondary exam

Disposition

There is an association between Injury Severity Score (ISS) and grade of Le Fort fracture (Bagheri 2005)
Majority of patient require admission; in one series:

52.2% placed in ICU
20.9% taken directly to OR (ibid.)

Goal is to restore the facial skeleton and proper masticatory function

Consult oral maxillofacial surgery (or whoever may be on call for facial trauma at your institution)
Consider neurosurgery consult if CSF leak noted

These patients commonly do not need intervention though

Consider ophthalmology consult within 24 hours depending on any ocular damage or involvement
TAKE HOME POINTS
Usually due to high velocity accidents, with an association b/w ISS and Le Fort grade
These injuries tend to have low mortality, but the associated injuries with it usually do
CT is the most specific and sensitive test for Le Fort fracture diagnosis
Protect the airway and control any hemorrhage

It is important to stabilize any serious injuries to airway, spine, chest, abdomen and skull prior to definitive treatment of facial bones

Admit, consult for operative repair, +/- antibiotics for definitive management
References
Bagheri SC, Holmgren E, Kademani D, Hommer L, Bell RB, Potter BE, et al. Comparison of the severity of bilateral Le Fort injuries in isolated midface trauma. J Oral Maxillofac Surg. 2005;63(8):1123-9. PMID: 16094579
Hasler RM, Exadaktylos AK, Bouamra O, Benneker LM, Clancy M, Sieber R, et al. Epidemiology and predictors of cervical spine injury in adult major trauma patients: a multicenter cohort study. J Trauma Acute Care Surg. 2012;72(4):975-81. PMID: 22491614
Hartstein ME, Wulc AE, Holck DEE. Midfacial rejuvenation. New York: Springer; 2012. xvi, 252 p.
Kaul RP, Sagar S, Singhal M, Kumar A, Jaipuria J, Misra M. Burden of maxillofacial trauma at level 1 trauma center. Craniomaxillofac Trauma Reconstr. 2014;7(2):126-30. PMID:25071877
Marx JA, Rosen P. Rosen's emergency medicine : concepts and clinical practice. 8th ed. Philadelphia, PA: Elsevier/Saunders; 2014.
Phillips BJ, Turco LM. Le Fort Fractures: A Collective Review. Bull Emerg Trauma. 2017;5(4):221-30. PMID: 29177168
Salonen EM, Koivikko MP, Koskinen SK. Multidetector computed tomography imaging of facial trauma in accidental falls from heights. Acta Radiol. 2007;48(4):449-55. PMID: 17453528
Soong PL, Schaller B, Zix J, Iizuka T, Mottini M, Lieger O. The role of postoperative prophylactic antibiotics in the treatment of facial fractures: a randomised, double-blind, placebo-controlled pilot clinical study. Part 3: Le Fort and zygomatic fractures in 94 patients. Br J Oral Maxillofac Surg. 2014;52(4):329-33. PMID: 24602602
Tintinalli JE, Stapczynski JS, Ma OJ, Cline D, Meckler GD, Yealy DM. Tintinalli's emergency medicine : a comprehensive study guide. Eight edition. ed. New York: McGraw-Hill Education; 2016. xliii, 2128 pages p.