Introduction:
Hand, foot, and mouth disease (HFMD) is common in children, especially those younger than 10 years of age.
Many cases are caused by coxsackievirus A16 (a member of the enterovirus group) and enterovirus A71, although there are many different serotypes.

Some of these serotypes, including coxsackievirus A6, may cause more severe symptoms.

While most cases occur during the summer and early fall months, the disease can be seen year-round.
Because HFMD is spread through both direct contact and droplets, it is common in the pediatric population.
Differential Diagnosis:
The distinguishing features of the differential diagnoses are as below:
Viral pharyngitis: pharyngitis without vesicles
Herpangina: pharyngeal lesions only
Herpetic gingivostomatitis: lesions more common on lips and gums, with severe pain
Aphthous stomatitis: mucosal ulcers, not associated with viral symptoms
Varicella zoster: lesions at different stages of healing
Kawasaki disease: CRASH and burn (usually accompanied by conjunctivitis, adenopathy, hand/ foot changes, and cracked lips/ strawberry tongue)
Henoch-Schonlein Purpura: non-blanching rash located primarily on buttocks and legs
Measles: cephalocaudal spread, rash preceded by viral prodrome with three C's, ill-appearing
Erythema multiforme: targetoid rash more common
SJS/ TEN: ill-appearing, with both skin and mucous membrane involvement
Clinical Manifestations:
Patients with HFMD may have general viral symptoms, including fever, decreased oral intake, odynophagia, and general malaise.
Herpangina refers to the painful blisters in the posterior pharynx.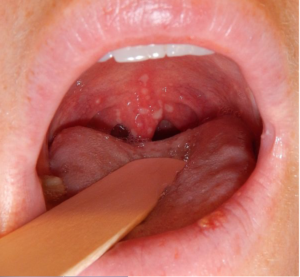 Patients may also experience erythematous lesions (including macules, papules, pustules, and vesicles) on their palms and soles (hence the name); however, the rash may also be widespread and can be mistaken for conditions such as varicella.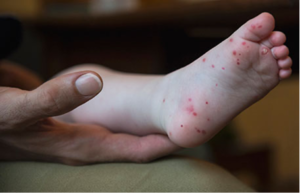 In rare cases, enteroviruses can cause CNS manifestations such as encephalitis, aseptic meningitis, acute transverse myelitis, and Guillain-Barre syndrome.
Management:
For the majority of patients, treatment is supportive.
NSAIDs and Tylenol are useful for the treatment of pain.
Magic mouthwash (a combination of a 1:1:1 ratio of liquid Benadryl, Maalox/Mylanta, and viscous lidocaine) can be helpful for herpangina.
Disposition:
Most patients will be discharged with supportive care.  As HFMD is highly contagious, they should limit their contact with others as much as possible while symptomatic.
Those with CNS manifestations should be admitted for further management.
Sequelae:
Patients with coxsackievirus may experience onychomadesis, or separation of the proximal nail plate from the nail matrix.

Although this is a benign finding, it can be distressing to parents, and they should be warned in advance.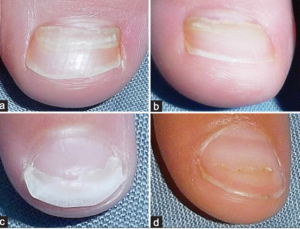 References:
Guerra AM, Orille E, Waggoner BC, et al. Hand Foot And Mouth Disease. [Updated 2020 Aug 13]. In: StatPearls [Internet]. Treasure Island (FL): StatPearls Publishing; 2020 Jan-. Available from: https://www.ncbi.nlm.nih.gov/books/NBK431082/Jubelt B, Lipton HL. Enterovirus/picornavirus infections. Handb Clin Neurol. 2014;123:379-416. doi: 10.1016/B978-0-444-53488-0.00018-3. PMID: 25015496.
Kim EJ, Park HS, Yoon HS, Cho S. Four cases of onychomadesis after hand-foot-mouth disease. Ann Dermatol. 2014;26(6):777-778. doi:10.5021/ad.2014.26.6.777
Mao Q, Wang Y, Yao X, Bian L, Wu X, Xu M, Liang Z. Coxsackievirus A16: epidemiology, diagnosis, and vaccine. Hum Vaccin Immunother. 2014;10(2):360-7. doi: 10.4161/hv.27087. Epub 2013 Nov 14. PMID: 24231751; PMCID: PMC4185891.
Images:
https://www.cdc.gov/features/handfootmouthdisease/index.html
https://en.wikipedia.org/wiki/Herpangina
Dobrev H, Hristova R.  A case of onychomadesis following hand, foot, and mouth disease.  Our Dermatology Online 1.2016. p101.