Definition: Ebola virus disease (EVD), also known as Ebola hemorrhagic fever, is due to a virulent pathogen spread by human-human transmission. The disease has the potential of causing multi-organ failure with high mortality rates in the absence of a standard treatment or vaccination.
Epidemiology:
Endemic to parts of Western Africa
Current outbreak (December 2013 to present): 26,933 total cases and 11,120 deaths (Ebola 2015)

Predominant transmission occurring in West Africa (Sierra Leone, Guinea, Liberia)

Incubation period: 3-21 days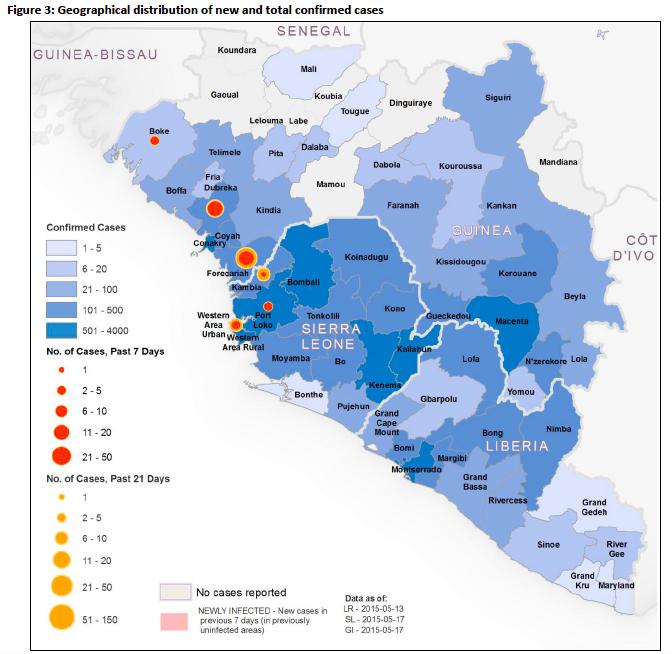 Pathophysiology:
Current strain 97% homology with Zaire ebolavirus, which is the most virulent strain with prior fatality rates as high as 90% (Tattevin 2014)
Ebola virus causes a systemic inflammatory response that impairs the vascular, coagulation, and immune systems (Feldman 2011)
Transmission requires direct contact through broken skin or mucous membranes with body fluids of symptomatic infected or convalescent patients

Symptoms (incubation period) occur within 21 days of direct contact
Mean incubation time from prior outbreaks ranged from 3-13 days (Tattevin 2014)
If a patient presents with symptoms greater than 21 days post-contact, can likely be ruled out.

Fatalities due to combination of hypovolemic (vomiting/diarrhea) and septic shock, massive bleeding (typically GI), and end-organ failure
Symptoms:
Fever
Nausea/vomiting/diarrhea
Flu-like symptoms (i.e. headache, myalgias/arthalgias)
Anorexia
 Physical Exam Findings: poly-organ involvement and life-threatening signs manifests later as disease progresses
HEENT: conjunctival injection, oropharyngeal erythema
CV: hypotension
Resp: tachypnea, rales (pulmonary edema late finding)
Abdomen: hyperactive bowel sounds
GU: anuria/oliguria
Skin: diffuse non-pruritic maculopapular rash, desquamation, petechiae/ecchymosis, mucosal membrane hemorrhage
Neuro: altered mental status, lethargy
ED Management/Treatment:
Identification/Isolation

Who to Isolate: patients with concerning symptoms + fever AND who have traveled to/reside in high-risk countries OR have had direct contact with an Ebola positive or suspected patient.
Immediate identification precludes all management given the high susceptibility of transmission to other patients and health care providers.
Patients should remain in isolation until alternative diagnosis can be proven.
Medical staff should be trained in donning/doffing personal protective equipment, and receive frequent recertification to practice of applying PPE.

Supportive Care

Supportive care central as there is no specific treatment for Ebola
Fluid substitution and electrolyte repletion will likely be the most immediate problem to be addressed.
Diagnostic Testing:
Physical Exam Diagnosis

Given the delay in serologic testing and potential of false negative results (depending on time course of illness), diagnosis should be based on clinical assessment.
Differential diagnosis should also include malaria, typhoid fever, Chikugunya, yellow fever, fulminant viral hepatitis, influenza and sepsis.

Serologic Diagnosis

Definitive diagnosis of EVD based upon detection of viral antigen via ELISA or viral RNA by RT-PCR.
Viral antigen and nucleic acid can be detected as early as day 3 of symptoms, but can take up to 10 days (Meyers 2015).
Antibody testing can also be tested using ELISA, but is less frequently used.
Specimens should be collected and sent to international/national reference centers.
Other common laboratory findings may include: leukopenia, thrombocytopenia, elevated BUN/Cr, elevated AST/ALT, prolonged PT/PTT
Convalescent Period
In Ebola positive patients, virus will clear from blood and urine first, however viral antigens may still be present in semen as long as 3 months into convalescent period.
Newly reported in NEJM May 2015, found a recovering Ebola patient who developed ocular symptoms (blurring of vision, foreign body sensation, and photophobia) 10 weeks after clearance of viremia in blood (Varkey 2015)

+EVD within aqueous humor, but negative in tears/conjunctiva
Sight threatening panuveitis improved with prednisolone, atropine and timolol drops, in addition to oral prednisone.

Limited data of other convalescent symptoms.
Take Home Points:
Identify and isolate patients with concerning symptoms who have either traveled to or reside in high-risk/endemic areas (Guinea/Sierra Leone/Liberia) AND/OR have had direct contact with persons with known or suspected Ebola within a three-week timeframe.
Diagnosis based on clinical assessment as serologic testing may provide a false negative result or a delay in diagnosis.
No standard of treatment, however important to provide supportive care (airway management, fluid/electrolyte resuscitation) with appropriate personal protective equipment.
References:
Ebola Situation Report — 20 May 2015. Geneva: World Health Organization, 2015. (http://apps.who.int/ebola/en/current-situation/ebola-situation-report-20-may-2015)
Feldman H, Geisbert TW. Ebola haemorrhagic fever, Lancet 2011;377:849-62. PMID: 21084112
Meyers L, Frawley T, Goss S, Kang C. Ebola virus outbreak 2014: Clinical review for emergency physicians. Ann Emerg Med 2015;65:101-8. PMID: 25455908
Tattevin P, Durante-Magoni E, Massaquoi M. Does this patient have Ebola virus disease? Intensive Care Med 2014;40:1738-41. PMID: 25183574
Varkey JB, Shantha JG, Crozier I, Yeh S. Persistence of Ebola virus in ocular fluid during convalescence. NEJM 2015. PMID: 25950269