Definition
Rupture of the biceps tendon, most frequently at the proximal end of the long head of the bicep
Rupture of the triceps tendon, most frequently at the insertion of the medial or lateral head to the olecranon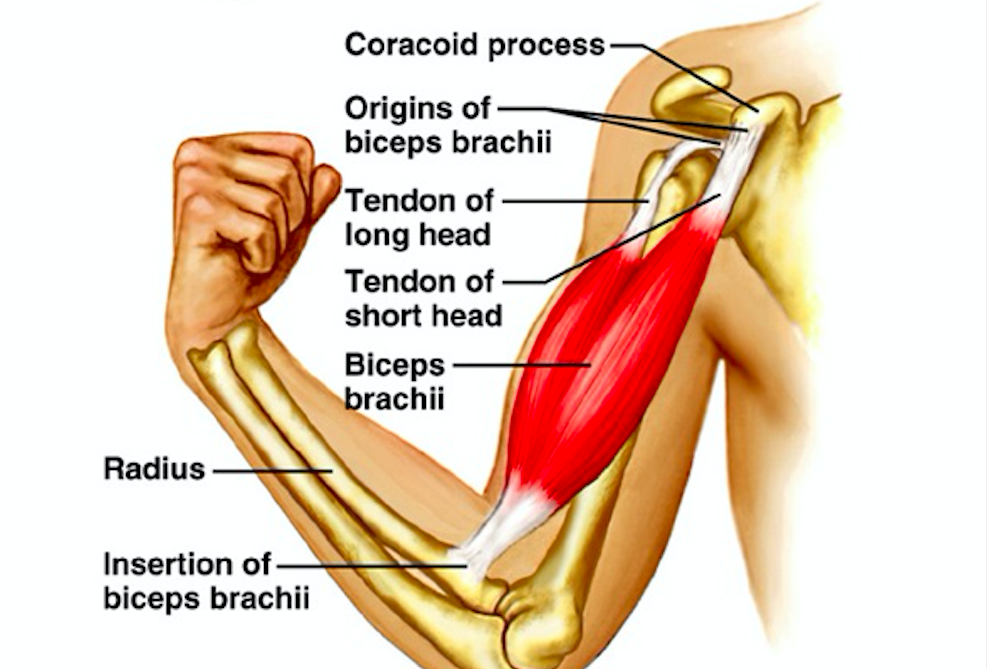 Anatomy
Biceps Tendon


The biceps muscle is divided into two tendons proximally:

The short head of the bicep inserts at the coracoid process. It is rarely a source of pain and helps with arm flexion.
The long head of the bicep runs over the top of the humerus and inserts at the glenoid. It is primarily responsible for arm abduction and is a common source of anterior shoulder pain.

The distal tendon inserts at the radial tuberosity

Triceps Tendon

The triceps muscle has three heads:

The long head arises from the infraglenoid tubercle, with the tendon attaching to the glenoid cavity.
The lateral head attaches to the upper margin of the radial grove of the humerus.
The medial head originates below the lateral margin of the radial groove and inserts at the posterior surface of the humerus

Distally, the triceps tendon inserts at the olecranon process
Epidemiology
Biceps Tendon Rupture

Location (Clayton 2008)

Proximal end of the long head of the bicep at the glenoid – 96%
Distal along the radial tuberosity – 3%
Short head of the bicep – 1%

Usually seen in older patients – median age 46
Risk factors include recurrent tendinitis, a history of a rotator cuff injury, a contralateral biceps tendon rupture, age, poor conditioning and rheumatoid arthritis (Harwood 2005)

Triceps Tendon Rupture

The least common of all tendon injuries. Accounts for less than 1% of all tendon ruptures within the upper extremity
Most commonly occurs at the insertion of the medial or lateral head to the olecranon (Khiami 2012)
Typically occurs in males, with ages 30-50 being the most common
Risk factors include anabolic steroid use, local steroid injections for bursitis, oral steroid use, renal disease, diabetes and familial tendinopathy (Dunn 2017)
Presentation
Biceps Tendon Rupture

Mechanism

Fall on an outstretched hand or after lifting something heavy
Can occur after routine athletic activities (i.e. throwing a football, taking a slap shot while playing hockey)

Patients may complain of anterior shoulder pain and/or pain radiating down the region of the biceps
Patients will often hear an audible pop or snap
Physical Exam

Tenderness with palpation over the biceps groove

(worse with internal rotation of arm)

Difficulty supinating arm, may or may not have difficulty flexing arm
"Popeye" muscle deformity

Rupture of the proximal tendon of the biceps results in the muscle collecting distally.

Reverse Popeye deformity (seen in distal tears)

Triceps Tendon Rupture

Mechanism

Typically occurs from forced bending of the elbow during a pushing activity
Unlike biceps tendon ruptures, triceps tendon ruptures are almost always traumatic, as they require a large amount of force
May occur after weightlifting or playing a contact sport such as football

Patients often hear a pop with sudden acute pain along the course of the rupture
Patients will have difficulty extending their elbow
Physical Exam

There will typically be a noticeable defect just above the olecranon

Modified Thompson's Test

Elbow is flexed to 90 degrees and arm is abducted
Examiner squeezes triceps muscle below and observes for elbow extension
If none is present, a complete tear is likely

Easy to misdiagnose complete tear as swollen elbow can limit patient's ability to extend
Imaging
Obtain AP and lateral X-rays of the elbow with suspected triceps tendon ruptures, as they are typically associated with avulsion injuries

"Flake sign": 

Lateral radiographs of the elbow showing an avulsion fracture where the triceps insert at the olecranon

MRI is the gold standard to determine severity and location of the tear for both biceps and triceps tendon ruptures but can be deferred to outpatient follow up
ED Management
Provide analgesia
Close follow up with orthopedics (within 1 week)
Cases of isolated biceps or triceps tendon ruptures can be discharged from the ED with supportive care measures (rest, ice, analgesia, sling).  In a community hospital without an in-house orthopedic surgeon, these patients do not warrant an emergent ortho consult in the ED
A triceps tendon rupture with an associated avulsion injury warrants either ED ortho consult or very close (24-48 hours) follow up, as these patients require surgical repair within 2 weeks of injury
Prognosis (Leslie 2002)
Biceps Tendon Rupture

The main indication for operative repair is restoration of supination strength. However, patients may also elect to have operative treatment for cosmetic reasons.
If supination strength and/or cosmetics are not important to the patient, non-operative treatment can be considered.
Flexion and supination strength generally return to near baseline levels. Patients can expect to return to normal functioning between 4-9 months after surgery.
The most common complication is a neuropraxia of the lateral antebrachial cutaneous nerve.

Triceps Tendon Rupture

Complete tears are debilitating and should be repaired surgically.
Partial tears >50% with significant weakness should also be repaired surgically.
Partial tears in which patients retain their ability to extend their elbow against gravity can be treated non-operatively with physical therapy and NSAIDs.
Patients can expect to regain almost full range of motion of the elbow, with possible loss of a few degrees of elbow extension.
Patients can expect to return to full activities 12 weeks after surgery.
Complications include elbow stiffness and ulnar nerve injury, the latter of which is very rare.

Generally, patients treated nonoperatively for biceps and triceps tendon ruptures have weaker supination/flexion and elbow extension, respectively, compared to patients treated surgically. 
Take Home Points
Biceps tendon rupture can be a result of trauma or overuse, but can also present after relatively routine activities. Triceps tendon ruptures are almost always traumatic and typically require a large amount of force
Patients typically hear a popping sound and will present with difficulty supinating and/or flexing their arm (biceps) or extending their elbow (triceps)
For suspected triceps tendon rupture, elbow X-rays should be obtained to evaluate for an avulsion injury. However, non-emergent MRI is the gold standard for both bicep and triceps tendon ruptures
Patients can be discharged from the ED but warrant close follow-up with an orthopedic surgeon
References
Clayton RA, Court-Brown CM. The epidemiology of musculoskeletal tendinous and ligamentous injuries. Injury. 2008. 39(12): 1338. PMID: 19036362
Dunn JC et al. Triceps Tendon Ruptures: A systematic Review. Hand. 2017; 12(5): 431-438. PMID: 28832209
Harwood MI, Smith CT. Superior labrum, anterior-posterior lesions and biceps injuries: diagnostic and treatment considerations. Prim Care. 2005; 31(4): 831. PMID: 15544823
Kelly MP et al. Distal Biceps Tendon Ruptures: An Epidemiological Analysis Using a Large Population Database. Am J Sports Med. 2015; 43(8): 2012-7. PMID: 26063401
Khiami F et al. Distal partial ruptures of triceps brachii tendon in an athlete. Orthopaedics & Traumatology: Surgery & Research. 2012; 98(2): 242-246. PMID: 22381568
Leslie BM, Ranger H. (2002) Biceps Tendon and Triceps Tendon Ruptures. In: Baker C.L., Plancher K.D. (eds) Operative Treatment of Elbow Injuries. Springer, New York, NY.