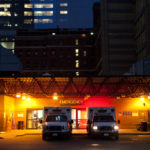 "Take one more look. Surgery will prep the neck in the meantime."
Emergency medicine is a cruel field. The more I learn, the more I realize my deficiencies, my weaknesses, my fears. As I uncover the intricacies and nuances of this specialty, questions continue to arise. The scope of practice is ever growing and self-doubt seems to only grow with experience.
If I'm being brutally honest, some things haven't changed since intern year. I still get nervous before every shift. My heart skips a beat whenever the trauma phone rings and my hands get a little shaky every time a critical patient is wheeled into the resuscitation bay. In many ways, I feel like an imposter as I head into my last year of training.
Why? Because there is so much that I don't know. And in a year's time when I graduate, there will still be so much to learn.
Read More